Among the many fun activities at the
BeNETTAfit
this Saturday, November 12, there will be a craft table (run by yours truly of
Tmuffin
) where we will be making musical instruments so our kids can jam with the bands. (Who are we kidding? We're going to be jamming, too!)
Here's a little sneak preview of the homemade musical instruments we'll be making from repurposed materials:
Tin Can & Balloon Bongo Drums/Rattles
Ankle/Wrist Bells
Rhythm Sticks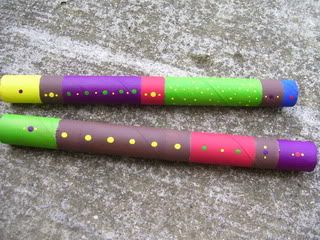 Rice Shakers
Paper Plate Banjo
Part of the beauty of these crafts is that they will be made from repurposed, recycled materials.
We need the following materials for our homemade musical instruments:
Tin cans (coffee cans, vegetable cans, juice cans, etc)
Rubber bands
Old sweaters/old T-shirts
Paper towel, toilet paper, or wrapping paper tubes
Paper plates
Wax paper
Balloons
Boxes of rice or bags of dried beans (for the shakers/rattles)
In order to have enough for everybody, we need your help! If you have any of the above materials lying around, bring them by Green Baby Diaper Service by Friday, November 11, or bring them with you to the BeNETTAfit!